To kick off 2023 here on our blog we thought we'd introduce the team and find out more about them.
Together Veronica and Charlotte support our clients to facilitate all their translation and interpreting requirements, working with our team of trusted linguists to make sure documents are translated with the high level of accuracy that we pride ourselves on. As well as ensuring interpreters are prepared and ready to support our clients during their bookings.
As you'll find out below, they're a busy bunch who share a love for the Spanish language – working together in our Gosforth based office.
Veronica, Translations Project Manager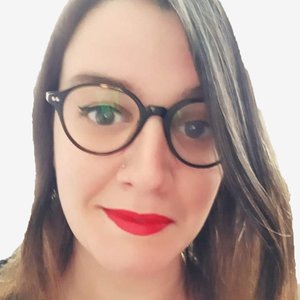 A Spanish native who moved to the UK in 2012, Veronica studied English language, literature, translation and interpreting at the University of Valencia before undertaking a Masters degree in professional translation for European languages, interpretation and translation at Newcastle University.
Fluent in Spanish, Catalan and English, she also volunteers in her spare time as a translator for the Out of Eden Project, which is sponsored by National Geographic.
Let's find out more about her.
How long have you worked at Eldon (now NRL)?
I joined the Eldon team (now NRL) in July 2018, and for the first year or so I combined my part-time job with my MA studies at Newcastle University. It was challenging from a time-management point of view, but really exciting to be learning about the intricacies of the translation industry from a professional perspective, rather than just theoretical.
How has your role developed during that time?
I started as a Junior Translations Administrator working along a very experienced colleague from whom I learned a lot. Back then, I also did a lot of in-house translation along with the customer service side of business, and I loved the combination of creating texts and helping clients with their translation projects. Since Sally retired and we became part of the NRL Group following acquisition, my role has changed to that of Translations Project Manager. There is a lot more back-office work now, administrative duties such as invoicing, preparing translators' payments, drafting tenders for public contracts, etc. – but I still like to sink my teeth into the odd translation project. I just have to pick them more carefully now, as there are other priorities.
What have been some of the most rewarding client projects you've supported?
We work closely with local charities who assist refugees, asylum seekers, and women who are victims of domestic violence. Being able to make a difference by providing interpreting services at a time of great vulnerability in their lives is very satisfying. It takes a special kind of person to interpret in these situations, given how emotionally charged these sessions can be, but we collaborate with wonderful professionals, compassionate and highly-trained colleagues who make us proud.
What are your favourite things to do when you head back to Spain to visit family and friends?
Something I really miss about life in Valencia is the concept of 'tardeo'. As you may know, we have dinner quite late in Spain, so it's not unusual to meet friends at 7pm for a spot of window shopping and some tapas in the city before heading back home for actual dinner at 9 or 10pm. There is so much life outdoors, even in winter!
I also try to enjoy as much of my mam's home cooking as I can manage while I'm home. This may sound like a cliché, but her paella is the absolute best in the world!
Charlotte, Languages Consultant
UK born, Charlotte has a real passion for languages – which took her to the University of Granada for a year during her time studying for a BA in Spanish Studies with Italian at Lancaster University. Last year she continued to develop her language skills, gaining a Masters degree in Professional Translation for European languages at Newcastle University.
In her final year of studying, she joined the Eldon (now NRL) team – quickly getting to work supporting our clients with translation requests and interpreting bookings. Allowing her to use her Spanish and Italian language skills whilst working with our team of linguists.
We chat with her below.
You joined the team last April, how's it been so far?
So far it has been a really great experience, and everybody here has been very welcoming and supportive, especially my colleague Veronica who I work closely with on a day to day basis. It was difficult to imagine what the job would be like, having never worked in the translation industry before, but it is certainly as interesting (if not more interesting!) as I had imagined it would be. Each day we get to deal with something different, and it feels very rewarding knowing that our work helps local businesses and clients.
What do you like about working in translation and interpreting?
As someone with a huge passion for languages, but who has never really known exactly what kind of job I wanted to have, I feel like I have finally found my place in the working world. Not only is it fascinating to see what kind of projects we get to assist with on a daily basis, but it's also interesting to liaise with translators and interpreters from all walks of life. And of course, the cherry on the cake is the fact that I get to actively use my knowledge of languages in certain aspects of the role!
Are there any other languages you want to master?
It would be amazing to pick up where I left off with my beginners Catalan from my year abroad, or maybe dabble in some Portuguese.
What are your travel plans for 2023?
With everything that's happened with COVID-19 and the ongoing climate crisis, I try not to travel by plane too much, but I would love to visit Spain for the first time since I lived there in 2018. Since moving to the North East, I'm also amazed at some of the beaches we have up here as it is totally different than where I am from in the North West. The sound of the sea and being outside in the fresh air away from city life is one of my favourite things, so it would be really fun to explore the UK for once and visit some more of the Northumberland and East Yorkshire coastline.